EX32EP2-4 Thruster 32mm Interchangeable Hardware Mount Exciter 40W 4 Ohm
Quick Overview
Turn even large, rigid surfaces into speakers with the Dayton Audio EX32EP2-4 Thruster exciter!
Product Highlights
Robust, heavy-duty design with a 32 mm voice coil attached to a steel spider
Interchangeable mount allows you to A/B test different exciters
Rare-earth neodymium motor and a proprietary two-layer voice coil
40 watt RMS power handling for high output
Easily swap non-functional units out in the field
4-ohm impedance for use with small, Class D amplifiers
Pre-applied 3M™ VHB™ adhesive for quick, durable installation
Product Manuals / Spec Sheets / Downloads
Dayton Audio EX32EP2-4 Thruster 32mm Interchangeable Hardware Mount Exciter 40W 4 Ohm
Test the limits of your imagination and turn any surface into a great sounding speaker system
Surface exciter technology provides a universal, cost-effective alternative to loudspeakers, allowing for sound reproduction virtually anywhere it is desired. Issues such as weather, space constraints, vandalism or visibility can be avoided or minimized with the use of a sound exciter. Dayton Audio Interchangeable Mount exciters may be used in a host of DIY executions to easily add sound to an existing non-audio specific project or create a portable speaker system, the unique mounting system allows you to try out the assortment of exciters offered by Dayton Audio!
Key Specs:
Power Handling (RMS): 40 Watts
Power Handling (MAX): 80 Watts
Impedance: 4 Ω
Dayton Audio's EX32EP2-4 Thruster exciter is built to turn large, thick, rigid surfaces into speakers. The 32 mm voice coil is attached to a steel spider for maximum restoring force when large amounts of power are applied, making it perfect for large glass panes, furniture, and surfaces that would normally resist the effects of an exciter! A neodymium magnet is employed to create maximum magnetic flux around the proprietary voice coil for increased sensitivity when compared to similar-sized exciters. In turn, this reduces power requirements and makes it possible to use very small audio amplifiers, without sacrificing total output.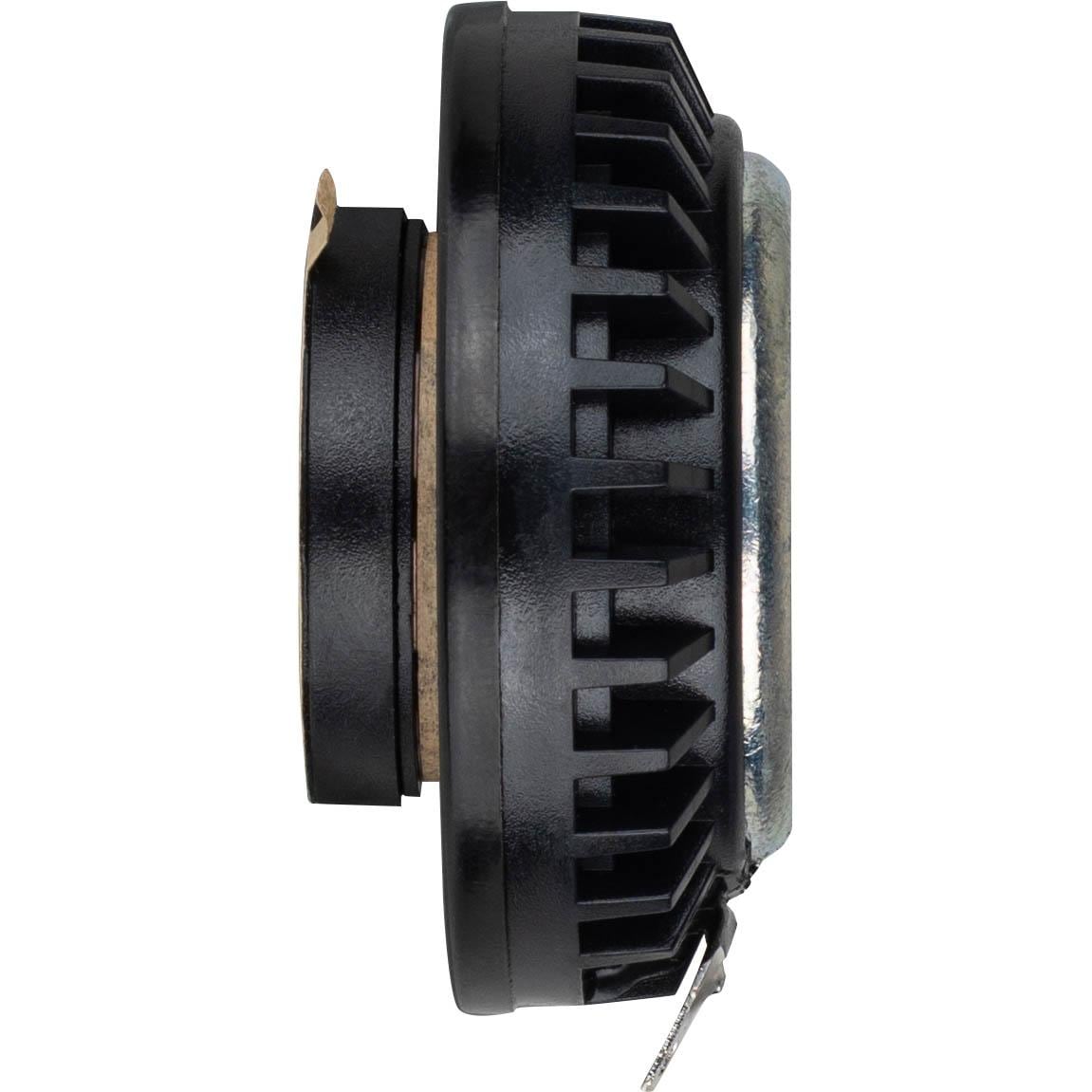 Exclusive Interchangeable Mounting System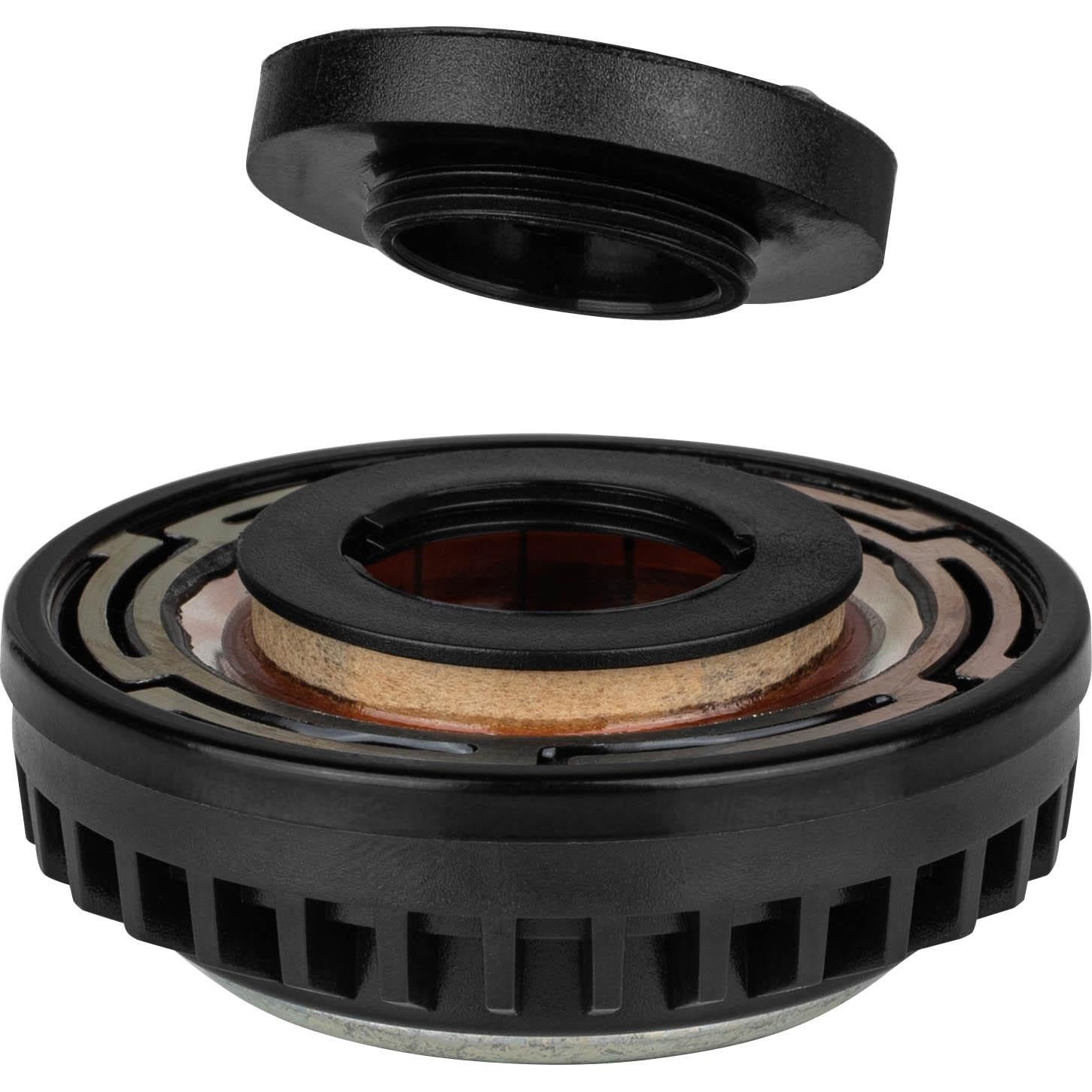 With Dayton Audio's exclusive interchangeable mounting system, you can try out many different configurations, placements, and exciters to find the best combination for your project. Each exciter comes with a threaded mounting pad that can be permanently installed anywhere. Installation is easy, simply remove the pad from the exciter assembly, mount the pad to your project with 2 screws or with the 3M Adhesive, and screw the exciter assembly back onto the pad! The non-destructive nature of the interchangeable mount allows you to A/B different exciters or swap non-functional units out in the field without risking damage to your project or exciters.
Easily Test Different Exciters Without Re-Mounting
With an exclusive mounting design, Dayton Audio's Interchangeable Mount Exciters make it easy to swap out and test different exciters. All of Dayton's interchangeable mount exciters take advantage of the same mount to provide an easily swappable configuration. The included mounting hardware fits any of the models in the exciter line which means that you only have to attach one mount to a surface and swap out different exciters to test performance.
Exclusive Mounting Features
Compatible with all of Dayton Audio's 25mm exciters
Pre-applied 3M™ VHB™ adhesive and 2-Hole mounting for quick, secure installation
| | |
| --- | --- |
| Speaker Series | Exciter Series |
| Model Number | EX32EP2-4 |
| Unit of Measure | Each |
| UPC | 848791008566 |
| Warranty - Parts | 5 Years |
| Warranty - Labor | 5 Years |
| Product Shipping Weight (lbs.) | 0.35 |
| Speaker Type | Exciter |
| Power Handling (RMS) | 40 watts |
| Power Handling (max) | 80 watts |
| Continuous Program Power | -- |
| Impedance | 4 ohms |
| Sensitivity | -- |
| Frequency Response | -- |
| Voice Coil Diameter | -- |
| Magnet Weight | -- |
| DC Resistance (Re) | -- |
| Voice Coil Inductance (Le) | -- |
| Resonant Frequency (Fs) | -- |
| Mechanical Q (Qms) | -- |
| Electromagnetic Q (Qes) | -- |
| Total Q (Qts) | -- |
| Diaphragm Mass Inc. Airload (Mms) | -- |
| Moving Mass Of Diaphragm (Mmd) | -- |
| Mechanical Compliance of Suspension (Cms) | -- |
| Surface Area Of Cone (Sd) | -- |
| Volume of Displacement (Vd) | -- |
| BL Product (BL) | -- |
| Compliance Equivalent Volume (Vas) | -- |
| Maximum Linear Excursion (Xmax) | -- |
| Drivers Mechanical Losses (Rms) | -- |
| Entry / Exit Diameter | -- |
| Surround Material | -- |
| Voice Coil Wire Material | -- |
| Voice Coil Former | -- |
| Basket/Frame Material | -- |
| Magnet Material | -- |
| Overall Outside Diameter | -- |
| Overall Depth | -- |
| Baffle Cutout Diameter | -- |
| Mounting Hole Diameter | -- |
| Bolt Circle Diameter | -- |
| Product Weight | -- |